Jaime González Cela (Madrid, 1984) and Manuela Pedrón Nicolau (Granada, 1988) work on education and curating in the field of contemporary art. Their work as a collective focuses on researching about the processes of mediation that shape curatorial practice and the ability of contemporary art to generate different forms of narrative that explore political and social contexts. As a curatorial team, they have curated Arte ficción for CaixaForum Barcelona, winning project of the first edition of Comisart (2013) and C.I.T.I. Center for Technically Unpredictable Research (2015) in the Young Art Hall of the Community of Madrid. In 2015 they were invited to enlarge the Archive of Creators of Madrid and they also received the scholarship for curating and mediation of the Royal Academy of Spain in Rome.
Projects by Researcher @ Hangar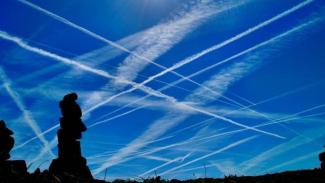 Conspiracy theories are the new legends. In recent years this phenomenon has replaced the traditional concept of popular storytelling, reinforced by scientific pretensions in the search for truth (which is out there). Chemtrails is a curatorial project that investigates the narrative potential of contemporary art, especially in relation with popular culture.