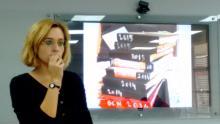 She is currently a lecturer for the art department at BAU, Design College of Barcelona, where she is a member of GREDITS (Research Group on Design and Social Transformation Group) and carries out research within the research line Objetologies. She investigates the possibilities of the graphic story as an epistemological object, paying special attention to the methodologies that allow the investigation to take place under other formats. BA in Fine Arts by the University of Seville and MA in Digital Communication, Culture and Citizenship by the Rey Juan Carlos I University of Madrid. She combines teaching, research and graphic reporting. She has participated in various projects and been part of different cultural spaces sensitive to experimental and collaborative practices such as Medialab-Prado and the Network of Collective Architectures.
Projects by Researcher @ Hangar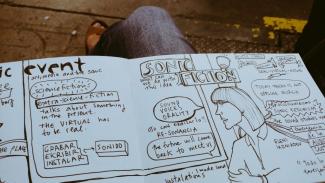 This research proposes an account that moves from the scientific laboratory to the "new" laboratories, from the scientific experiments to the collective experimentation, and from the forms of documentation proper to scientific experimental culture to the forms of registration of experimentation in art and design. It aims to think about how to attend practices between art and design that happen in "laboratories" that exist outside scientific disciplines and academic regulations.