Renan Laru-an (b. 1989, Sultan Kudarat) is a researcher, curator, and the founding director of Philippine-based DiscLab, Research and Criticism. He completed Psychology at the University of the Philippines-Diliman and participated in the Gwangju Biennale International Curator Course led by Ruth Noack. He has been the 2016 Encura curator-in-residence at Hangar Barcelona and the Re-Directing: East curator-in-residence at the Centre for Contemporary Art Ujazdowski Castle in Warsaw. At Hangar, he developed the curatorial research project Lightning Studies: Centre for the Translation of Constraints, Conflicts and Contaminations (CTCCCs) with artists-in-residence Megan Michalak, Giuliana Racco/Matteo Guidi, Mario Santamaria, and Christina Schultz in collaboration with cultural agents in the city of Barcelona. Renan Laru-an is a member of SYNAPSE – The International Curators' Network at Haus der Kulturen der Welt in Berlin. He is the editor of An Auto-Corrected Journal of Printing Properties (DiscLab's object publication published by The Office of Culture and Design) and co-author of From Bandung to Berlin (ongoing since 2014), with Brigitta Isabella.
Projects by Researcher @ Hangar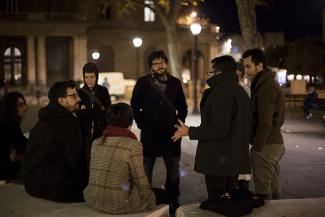 The project aims to work with some of the artist in residence at Hangar in the construction of a discursive architecture in an attempt to establish an affective institution for relational translation.